If you have recently experienced a suspended Google business profile, you may have received an email. However, my recent experience is that no email is sent. One of my listings was disabled, and I only found out when I went to Google to search and check analytics, but I couldn't find any trace of it!
This happened because, apparently, it goes against Google's guidelines. It's funny how it was ok last week and for several years, but all of a sudden it isn't. This hard suspension occurred despite the fact that no changes have been made to the info on the listing.
Google will not tell you what you have done wrong or why your suspended Google Business Profile has been penalised. You have to go find out for yourself. In my case, I contacted support and told them there had been no changes, and yet their reply was "you don't qualify for a listing on Google". So, other agencies can have a listing, but mine can't, even though it does comply with the guidelines as far as I can see.
I understand that this kind of situation is more than annoying, and Google doesn't appear to care. That is my own experience, and the experience of several people I have spoken to recently.
We all understand that the "fake" listings have to be dealt with, but targeting valid businesses with a valid address, and leaving those that are situated in a layby somewhere to continue with their own listing is not the best way forward.
If you have a disabled or suspended Google Business Profile listing that is affecting your ranking power, I want to show you how you can get it back quickly in a few easy steps.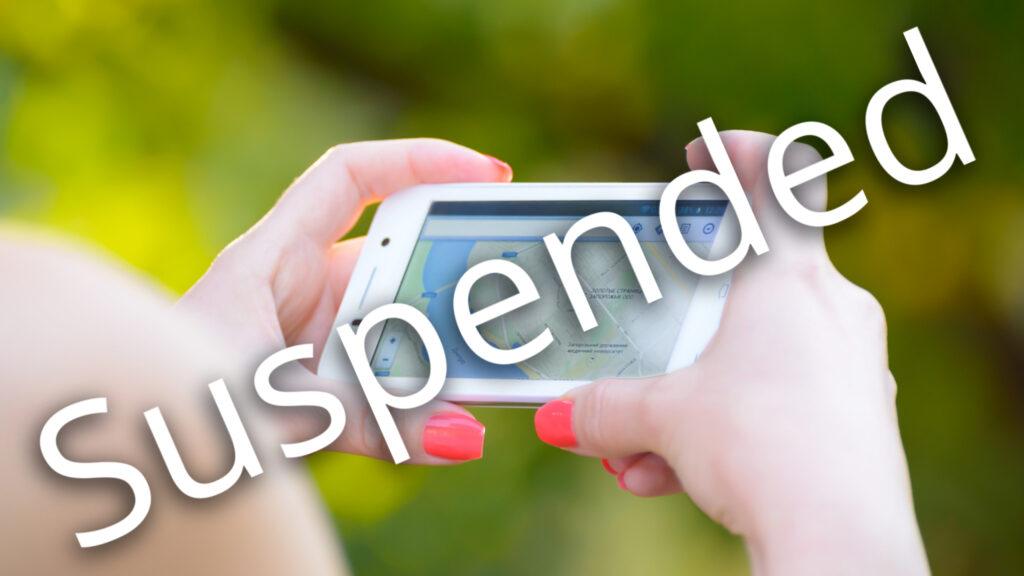 Your Step By Step Guide to Restore Your Suspended Google Business Profile
Check if Your Listing is Compliant to Remove the Suspension
There are many reasons why you have experienced a suspended Google Business Profile, but in most cases, it is likely because it doesn't comply with Google's guidelines. This is why, in the email you may have received, you are asked to first check if you are correctly representing your business on Google.
Before doing anything else, there are extremely important steps to follow. Failing to do so will result in your listing reinstatement requests being turned down, and your listing being suspended for longer.
Because Google won't tell you what the compliance issues with your listing might be, going through the guidelines to figure out where you've gone wrong can be like trying to fry bacon in a chocolate frying pan. To help you recover your suspended Google Business Profile, I will go through several of the most common reasons business owners get it wrong and how to fix them before submitting a reinstatement request.
You've added keywords to your business name.
Your business listing name should reflect your business's real name, and adding keywords to it goes against the guidelines. So, if you've added keywords to your name that shouldn't be there, remove them before asking for reinstatement of your suspended Google Business Profile.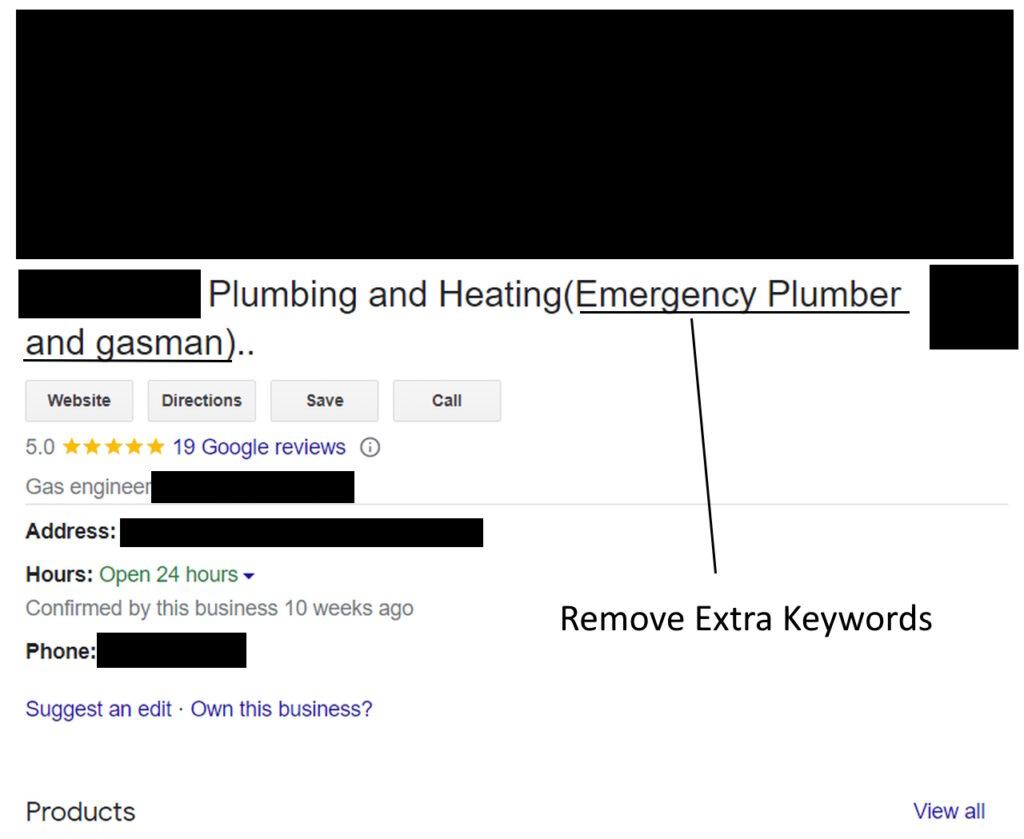 When to or not to include your address
You're showing an address on your listing, but you are a service area business and visit customers at their premises. You shouldn't show your business address on your listing in this case. Google will consider you a service area business, and showing your physical address may lead to a suspended Google Business Profile.
Here is a typical example of an electrician who could be assumed as using his home address. If you are a service area business, and are showing an address on your listing, remove it and add service areas instead before asking for reinstatement.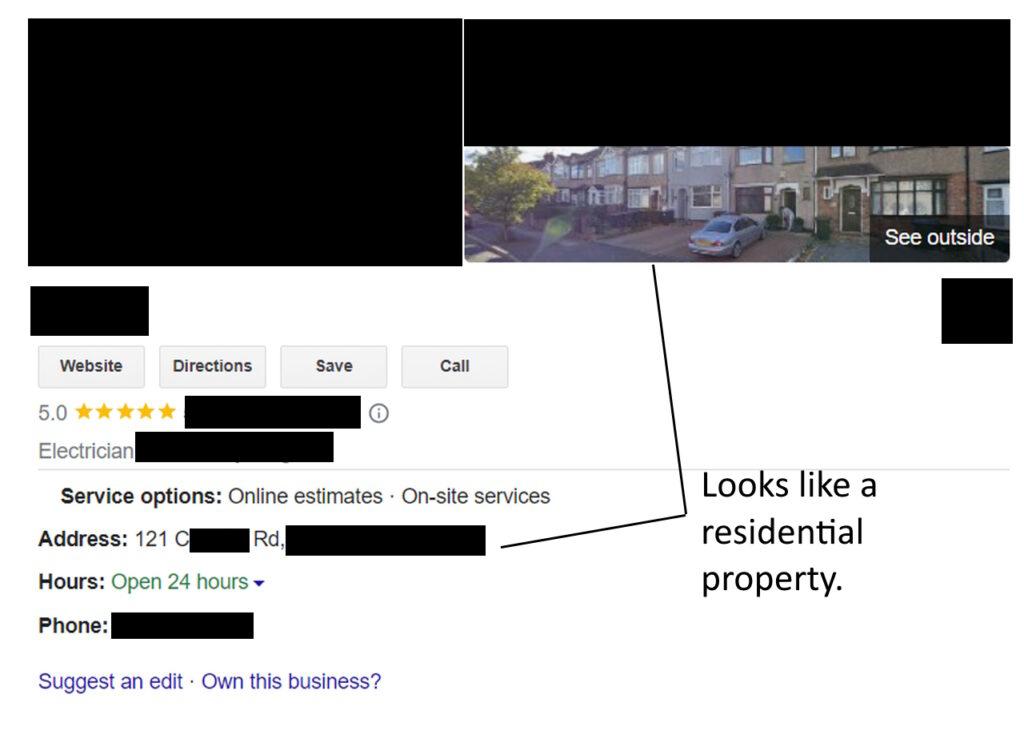 You've exaggerated the areas you cover.
Many service area businesses tend to exaggerate the boundaries within which they operate on Google Maps. By adding areas they don't really cover, they can trigger a suspension. I have seen listings where a whole country has been added as a service area. This is unrealistic, and you need to remember that you're a local business. How can you serve customers locally in an entire country?
The boundaries of the areas you serve should not extend farther than about two hours' driving time from where your business is based. If they do, just remove them, and this can recover (or even prevent) a suspended Google Business Profile..
You have claimed several profiles for the same business.
This is a classic issue among service area businesses that illegitimately create multiple listings across a large metropolitan area so they can rank for multiple areas. If this is what you've done, the best advice here is to remove the illegitimate profiles from your account, then come clean to Google, and ask them to remove those listings from Google Maps.
There are multiple profiles at the same address.
The presence of multiple profiles located at the same address can trigger automatic suspensions too, especially if the business located there shares similar activities. For example, several law firms work in the same building. This is quite common and can be solved by providing proof to Google that your business is legitimate and located at that address.
You are using business mailboxes.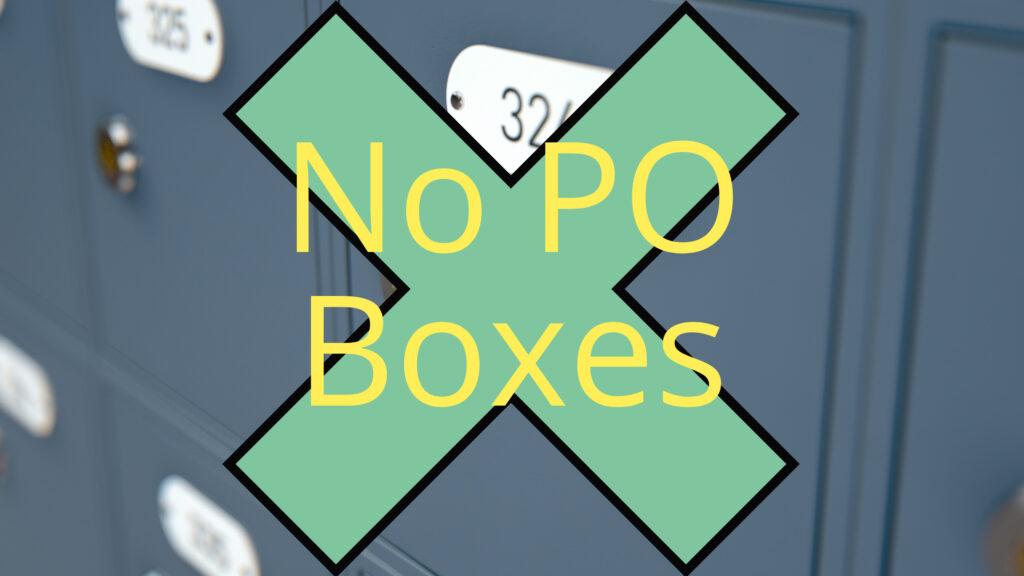 Using PO boxes or UPS Store addresses as your location on your listing is not accepted. Unless you use a legitimate address, your business will not be reinstated, so don't even bother asking unless you have a physical location and a legitimate business address you can share with Google. You cannot recover a suspended Google Business Profile unless you change these things.
You are using a virtual office as your business address.
Just like business mailboxes, virtual offices are not eligible to claim a Google business profile. Once again, unless you have a legitimate address or storefront, don't bother asking for reinstatement; it will be declined.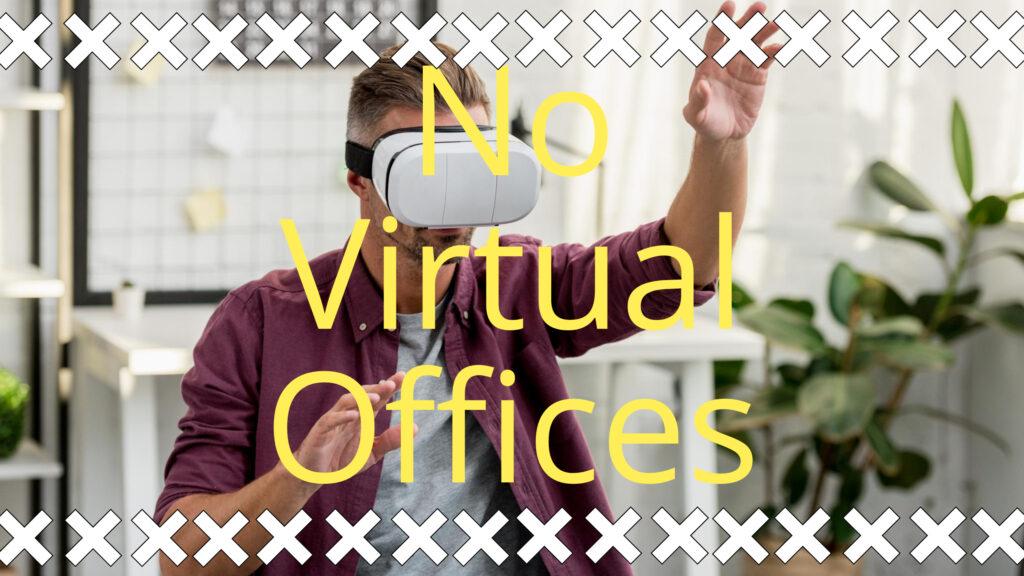 You are using a co-working space.
As a business address, this is a tricky one. Although businesses using co-working spaces are technically allowed to claim a listing, they are a high risk option and will very often trigger a suspension, even if they are legitimate.
If you fall into this scenario, be prepared to provide solid and tangible proof that your business is indeed located where you claim it is. For example, pictures of an allocated and permanent space with your logo prominently displayed will help. You'll also need to ensure you or a member of your staff is able to deal with customers face to face at the co-working location during your stated hours.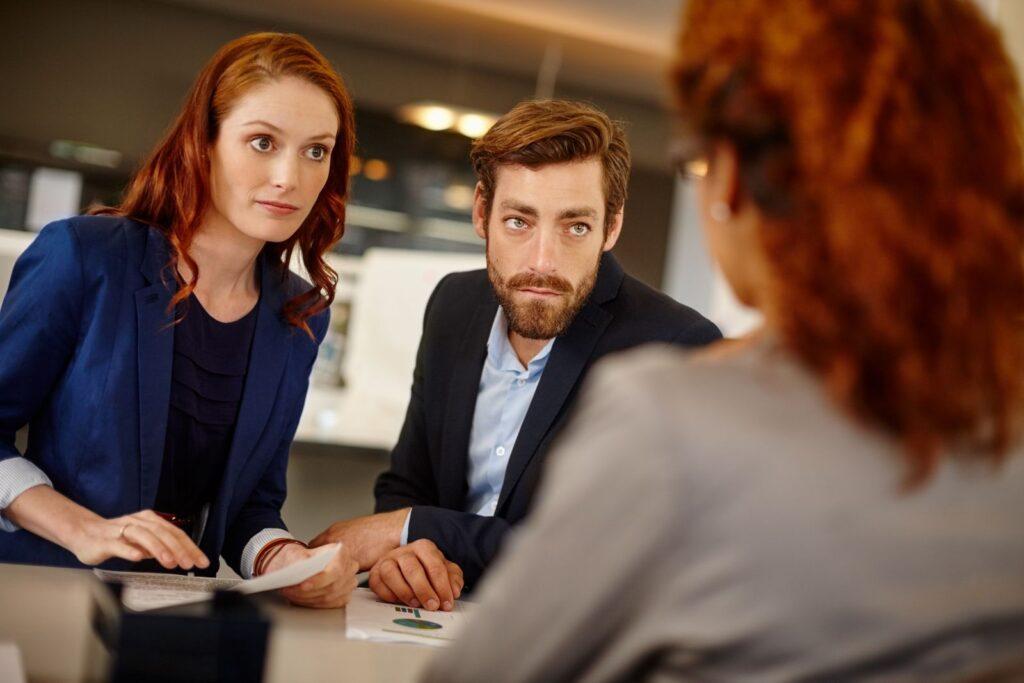 It's very difficult to justify a co-working space as your genuine location, and even then, you can still experience a suspended Google Business Profile. What is the answer? If you are able, get your own office.
You've changed your address.
If you've moved to another location, updating your profile with the new address may lead to a suspended Google Business Profile. Although this shouldn't happen, it sometimes does. Get your paperwork ready to justify the old address and the new address before submitting a reinstatement request.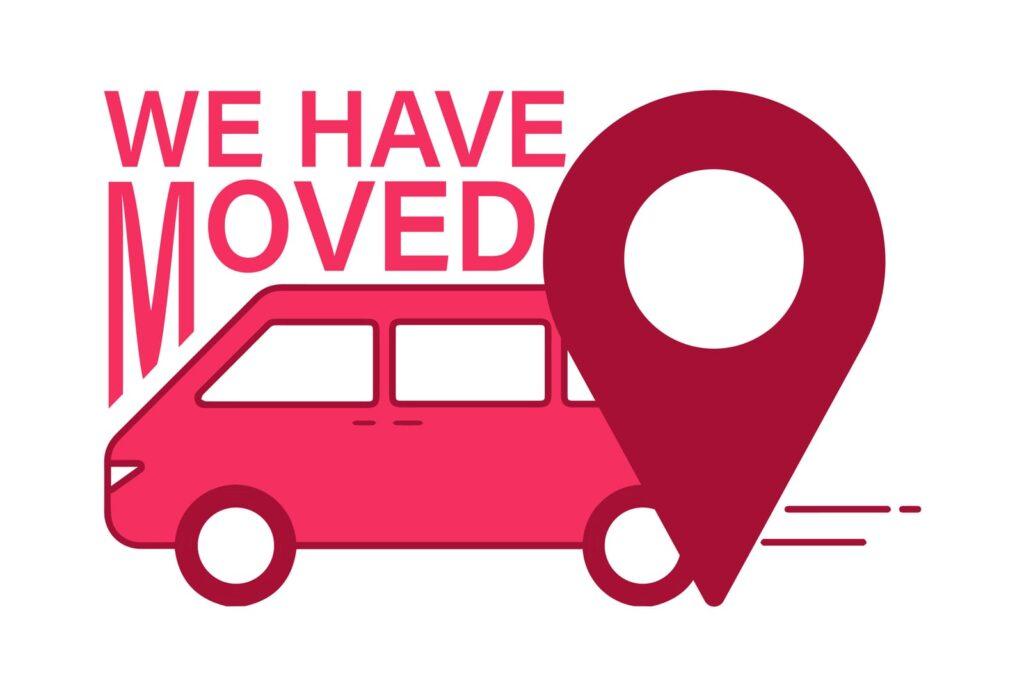 You don't make in-person contact with customers.
If you don't run a brick and mortar business where customers can come to you or visit customers at their homes, you will not be considered a local business and are not eligible to claim a profile. If this is the case, don't ask for the listing to be reinstated because it will be a waste of your time.
Your business falls into a high risk category.
Certain organisations are notorious for trying to fudge the system in order to rank higher on Google. Creating more locations is something that some lawyers, electricians, plumbers, garage door repair, and locksmiths, for example, will fall into the high risk categories. They are likely to be scrutinized by Google a lot more than others, and may be considered spam listings.
Don't Make Multiple Edits Quickly
Making multiple edits on search profiles at once can trigger a suspension. The solution; refrain from making too many edits in one go! If your listing has been suspended, you'll need to go through the reinstatement process.
You are using the wrong website link.
Make sure the website link set up on your profile takes users to a page on your website and doesn't redirect them to either another website or a social media page. If you have the wrong link up, change it. If you don't have a website, leave it empty.
You're open 24/7, but really you're not.
If you are not open 24/7, don't show on your listing that it is. Google will cross-reference information it can find about your business elsewhere on the web and, in some cases, even call your number for verification that you are really open when you claim you are. At best, Google will automatically change your hours. At worst, they'll suspend your profile.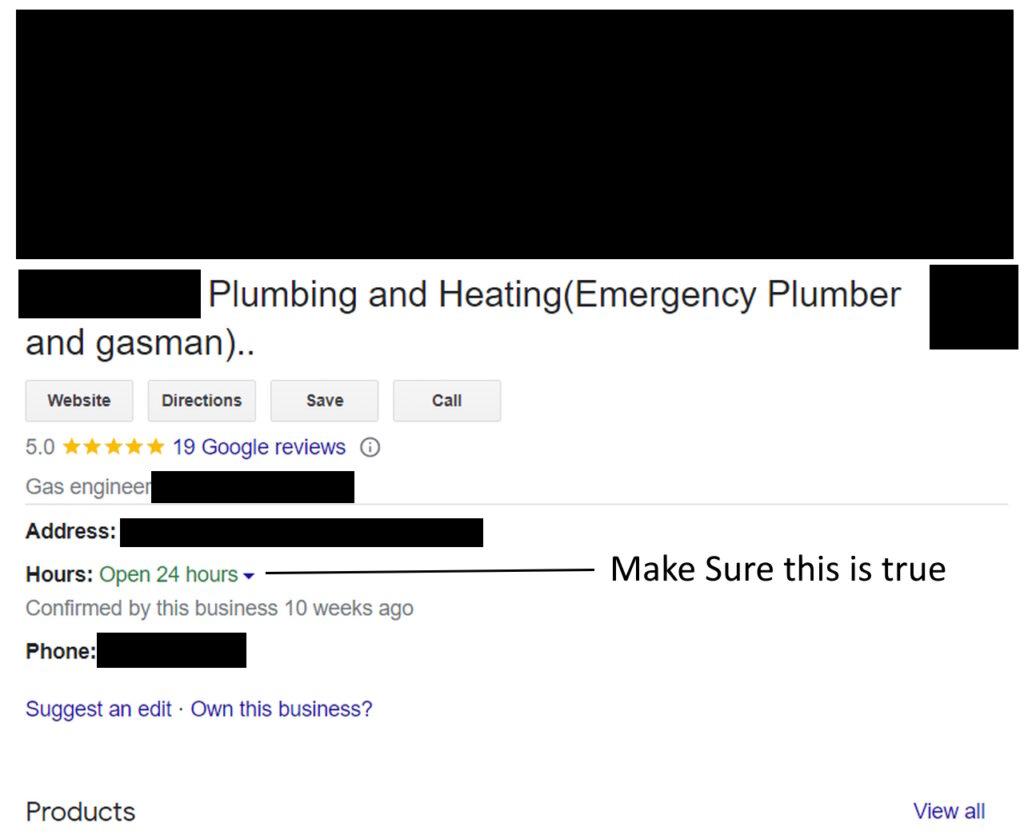 Don't take the risk; change your business hours!
A user with a suspended account has access to your profile.
You may have allowed other users or marketing agencies to access your listing in the past so they could help you optimize or manage your profile. Unfortunately, in some cases, some of these users won't play by the rules and use bad practices, resulting in their own Google account being suspended. If they have a suspended Google Business Profile, your listing may also face suspension as a result of the association between the two.
The solution: make sure whoever has access to your listing is trustworthy. To quickly verify who has access to your profile, log into your account from the search interface. Click on the three dots as shown and then on business profile settings. Click on managers and remove anyone you think shouldn't have access to your account.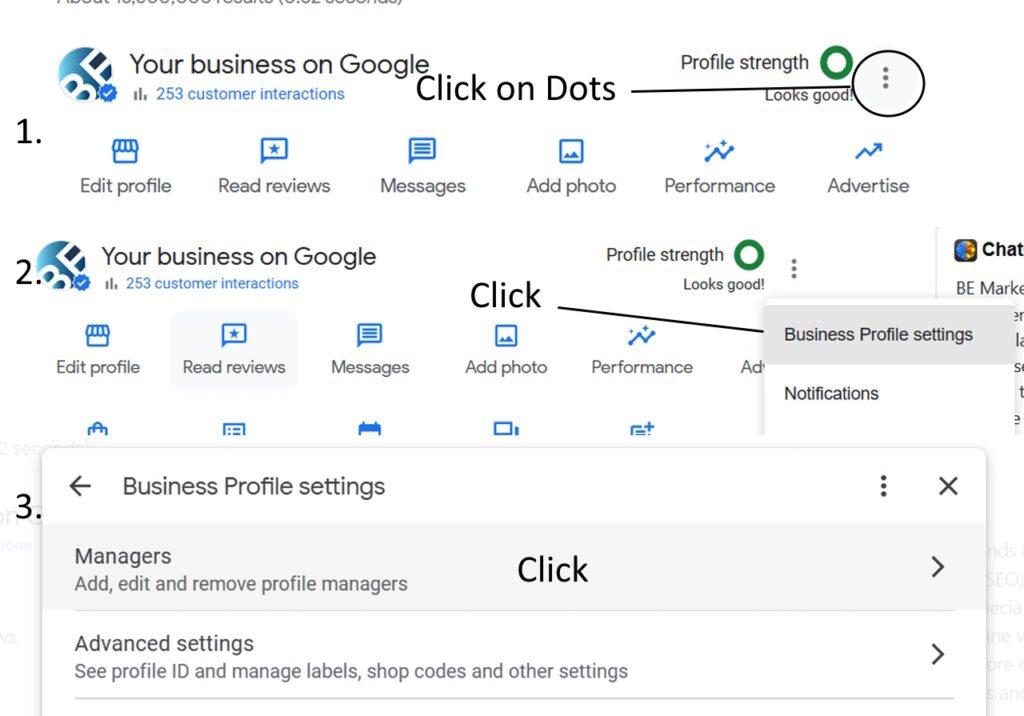 This concludes Section 1. Hopefully, you have managed to identify and fix one or more things successfully. You may also have gone through it, found nothing wrong, and wondered why your profile was suspended in the first place. At times, Google may mistakenly flag and suspend your listing, even if you haven't violated any policies.
It's still recommended you go through the guidelines in detail to be 100 percent certain you haven't forgotten anything, and then move on to step two in reinstating a suspended Google Business Profile.
2. Submit a Reinstatement Request
Once you believe that your profile adheres to the necessary standards, it is recommended that you submit it for review to a member of the GBP team, as instructed in the email you may have received. Clicking on the review link will take you to what is called a reinstatement request form. If you haven't received an email, or somehow lost it, here is a link to the reinstatement form: https://support.google.com/business/troubleshooter/2690129
Before you start filling out the form, I recommend you have the following information and documents handy:
Your business profile ID. To find this, log into the Google account associated with your business, and in the dashboard, click on "View Profile". Click on the three dots, and from the drop-down, select "Business Profile Settings". From the pop-up window, click on "Advanced Settings". You should see your business ID right there. Copy it and paste it into a notepad for safekeeping.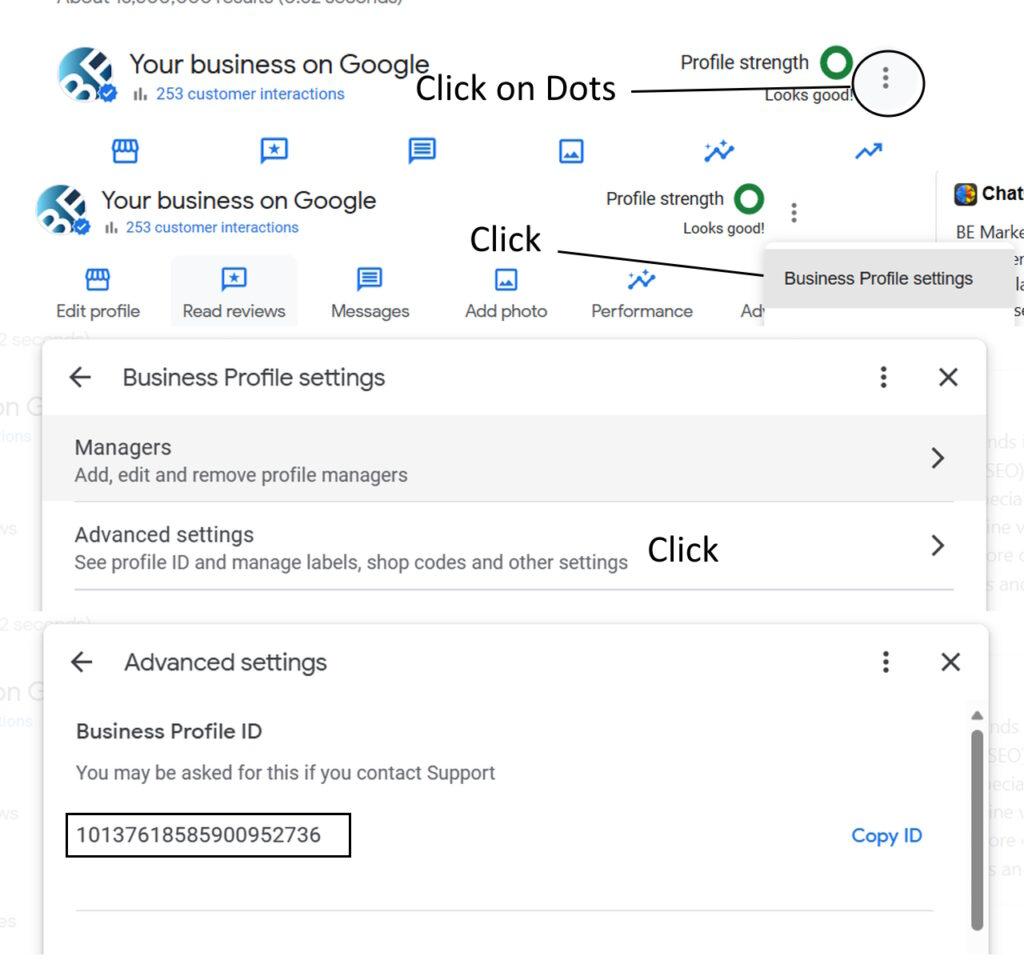 Also provide a copy of one of these documents:
An official business registration document or a business license or tax certificate
A copy of a utility bill displaying the same business name and address as your registration or license (you can use any of these: phone, gas, water, TV or Internet)
The following items are not required, but I would advise you to add them to your reinstatement request to reinforce your case: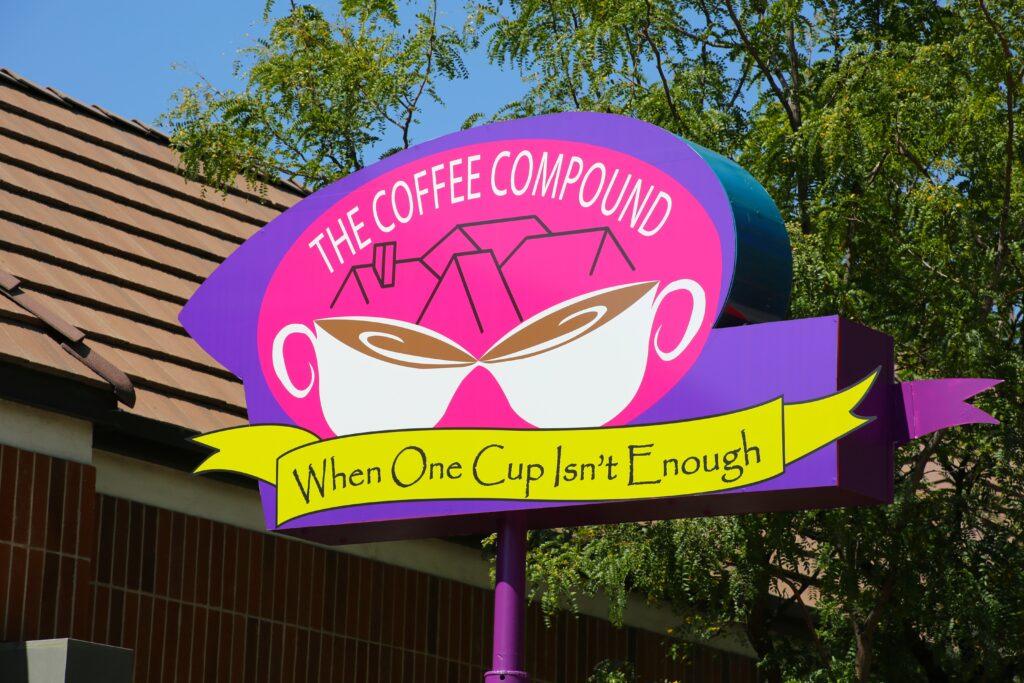 If you operate from a brick and mortar location, hopefully you have permanent signage outside. Take pictures of it.
If your business is registered on an official government website where it is listed, grab the link that points to it.
Once you have gathered all this information, you are ready to start filling out the form.
If you haven't already submitted a reinstatement request, answer no to the first question. The other questions are pretty straightforward. When you've answered them all, it will trigger the reinstatement request form itself.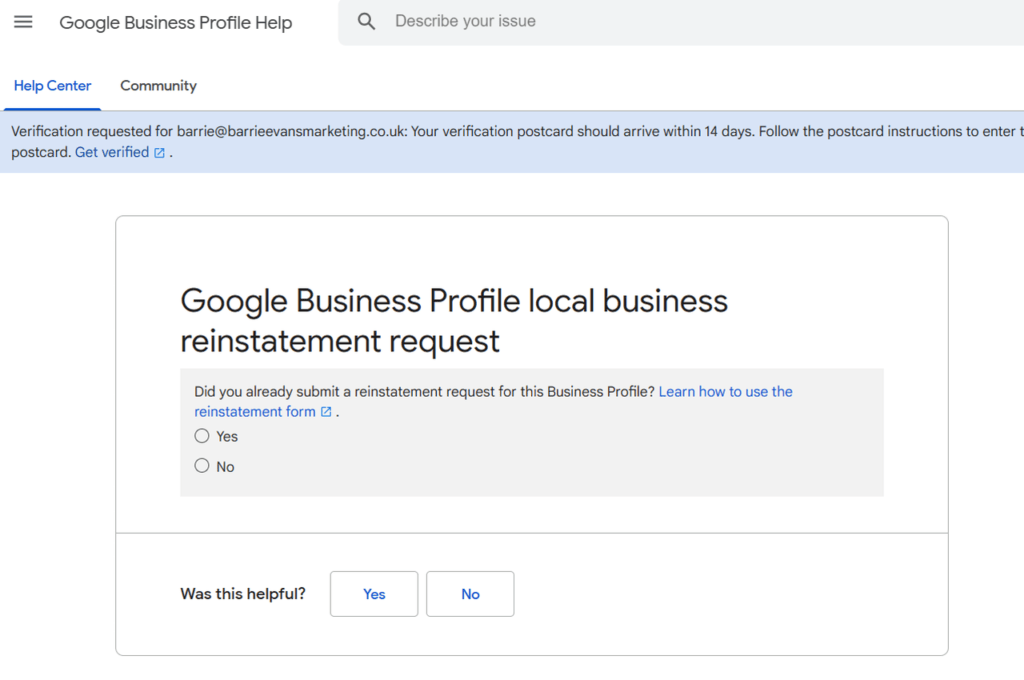 Enter your name and the email address you use to manage your business profile. Depending on your business type, add the name of the business and the address or service areas in which you operate.
Input your business ID in the next field, followed by your phone number.
The next field is your chance to explain why you believe your listing should be reinstated. Don't leave this blank. Explain why you think it happened. List all the corrections you have implemented based on what we covered in step one. If you have no idea why your business is disabled or suspended, write that too. Include a link to the official government website where your business is listed.
Finally, upload the documents Google requires. A copy of the official business registration and a copy of a utility bill. You're not restricted to just two documents, so I would always recommend you provide further proof if you can. These include photos of your outside signage and other relevant information.
Bundle all your documents in a zip file and add them to your request. After you're done, click on "submit," and that's it!
Recovering a Suspended Google Business Profile – What Happens Next?
After you've clicked on the submit button, you should receive a confirmation email. Now you have to wait for your case to be handled. You will need to be patient. I have been through this very process personally and with clients. It's not unusual for the process to take a week or more for a listing to be reinstated. It can take another few days for the search results ranking to return and the reviews to fully show up again.
You can check the progress of your request to recover your suspended Google Business Profile. You can do this by going to GBP Community Support. Log in with the email address associated with your account, then click on "Help Center". The status of your case should be displayed on the page.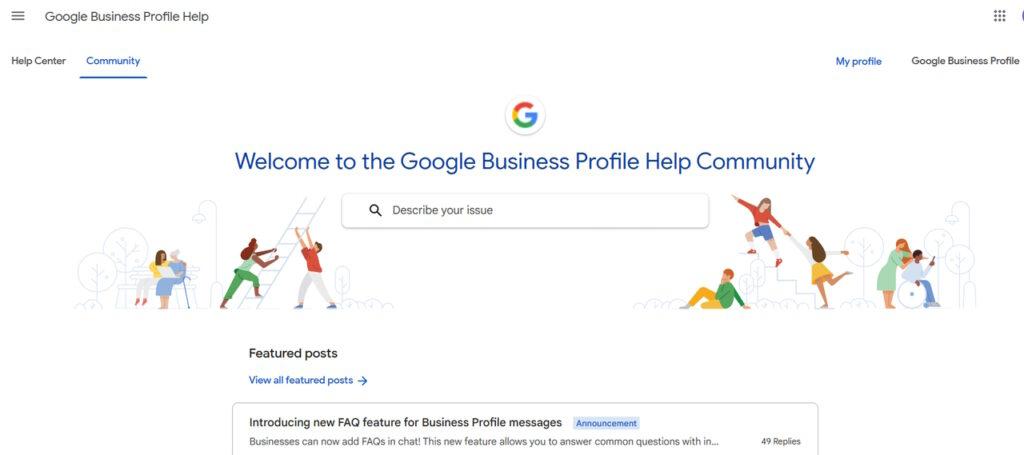 Whatever you do, don't submit another review if you feel this is taking too long. It will likely slow things down further.
Do not attempt to create a new listing, because it won't work!
Frequently Asked Questions
What are the consequences of having your business profile suspended by Google?
If Google decides to suspend your GBP listing, it can significantly harm your online visibility and reputation. If you have a suspended Google Business Profile, it may no longer appear in Google search results or Google Maps, making it difficult for potential customers to find your business.
This can lead to a loss of traffic, leads, and revenue for your business. Additionally, if your suspension is due to violations of Google's terms of service, you may also face penalties or fines. To avoid these consequences, it is important to ensure that you are following all of Google's guidelines and policies when creating and managing your business profile.
If you do receive a suspended Google Business Profile notice, it is important to take immediate action to address the issue and work towards resolving it as quickly as possible.
Why Google Business Profile has been suspended because it was flagged for suspicious activity?
This can happen if the profile is flagged for suspicious activity, such as fraudulent reviews or spammy content. Google takes these issues seriously in order to maintain the integrity of their local search results and protect users from misleading or harmful information.
If you experience a suspended listing, you will need to address the issue that caused the suspension before it can be reinstated. This may involve removing any offending content, reaching out to Google's support team for assistance, or taking other steps to demonstrate that your profile complies with their guidelines.
It's important to remember that maintaining a strong and accurate online presence is critical for businesses today, so taking the time to address any issues with your GBP can help ensure that potential customers can find and engage with your company online.
I hope this post on how to restore a disabled or suspended Google Business Profile has been helpful.