Google Business Profile Insights offer valuable data and analytics about how customers discover and engage with a business on Google. This information empowers business owners to make data-driven decisions, enhance their online presence, and improve customer engagement. Let's delve into more details about accessing and effectively using Google Business Profile Insights.
Accessing Google Business Profile Insights:
Sign in to your Google Business Profile account (https://www.google.com/business/) using the email associated with your business profile.
From the dashboard, select the business profile for which you want to view insights.
You will be sent to a search page and your business listing information is at the top of the page under Your Business on Google. Look through the options and you will see Performance. Click on that and you will them open up a page showing your various data.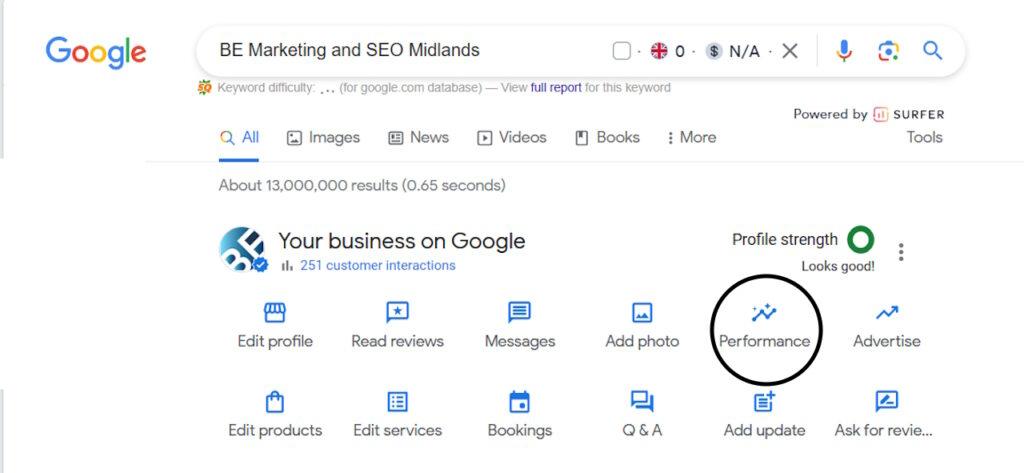 Key Insights and Tips for Using Them:
Customer Actions:
Track customer actions, such as website visits, direction requests, and phone calls, to measure the effectiveness of your online presence.
Use this data to assess the impact of your marketing campaigns and optimise your online strategy accordingly.

Search Queries:
Understand the search queries that customers use to find your business. Scroll down on the performance page and look in the right hand column to see what keywords your business is being found for. To see the full results, click the "See more" button at the bottom.

Identify popular keywords and phrases to enhance your search engine optimisation (SEO) efforts and improve your visibility on Google.
Direction Requests: Analyse how often customers request directions to your business location through Google Maps. Identify areas with high demand to consider expanding your business or tailoring your marketing efforts to specific regions.
Phone Calls: Track the number of phone calls generated from your Google Business Profile. Evaluate call handling and customer service processes to improve customer experience and conversion rates.
Reviews and Ratings: Monitor the quantity and quality of customer reviews and ratings. You can access your reviews by clicking on Read Reviews. Respond to reviews promptly, address any concerns, and show appreciation for positive feedback to enhance your reputation and build trust with customers.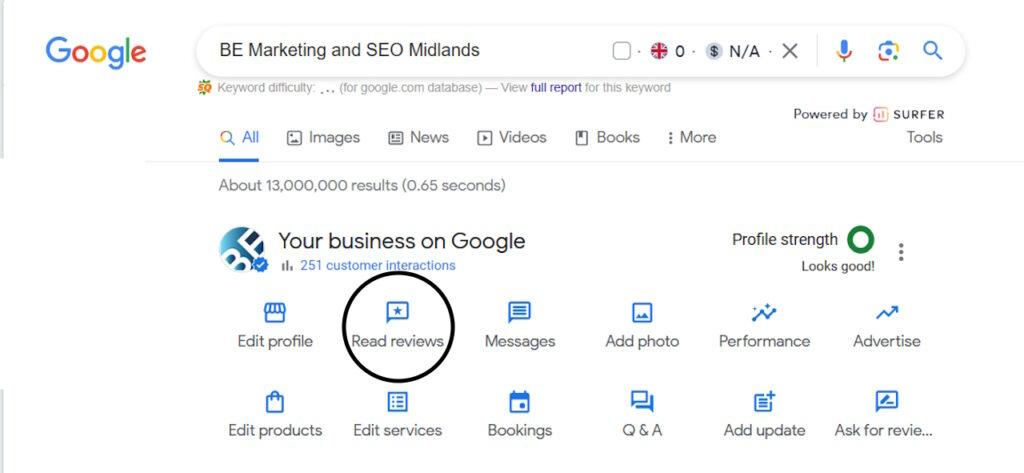 Time Trends: Analyse data over time to identify patterns and trends in customer behaviour. Use this information to optimize your marketing campaigns, adapt your business strategies, and make informed decisions.
Benchmarking: Compare your business's performance metrics with industry benchmarks. Gain insights into how your business is performing relative to competitors and identify areas for improvement.
Regular Monitoring and Action: Regularly check your insights to stay informed about your business's online performance. Use the data to make informed decisions and implement changes that align with customer preferences and needs.
Frequently Asked Questions
How frequently are the insights updated?
The insights on your Google Business Profile are typically updated daily to provide you with the most recent data.
Can I access insights for multiple business locations?
Yes, if you manage multiple business locations, you can access and view insights for each individual location within your Google Business Manager account.
Are these insights available for free?
Yes, Google Business Profile Insights are available free of charge to all business owners who have claimed and verified their business on Google.
Can I export the insights data for analysis?
Currently, there is no built-in feature to export the insights data. However, you can take screenshots or manually record the data for further analysis.
How far back can I view historical insights?
Google Business Profile Insights provide data for the past 18 months, allowing you to analyse trends and changes in customer behaviour over an extended period.
Can I see insights for specific timeframes?
Yes, you can select custom date ranges within the insights dashboard to view data for specific periods, helping you analyse performance during targeted campaigns or events.
Are the insights available on the Google Maps mobile app?
Yes, you can access and view insights on the Google Maps mobile app, providing convenient access to your business data while on the go.
Can I see insights for my competitors' business profiles?
No, Google Business Profile Insights are only available for your own business profile and cannot be accessed for competitors or other businesses.
How can I improve my business profile based on insights?
Use the insights to identify areas of improvement, such as optimising keywords, enhancing photos, or addressing customer concerns mentioned in reviews, to enhance your online presence.
Remember, Google Business Profile Insights are an invaluable tool for understanding how customers interact with your business online. By leveraging these insights and implementing data-driven strategies, you can enhance your online presence, attract more customers, and drive business growth.